Posts for: January, 2018
By Pappas Family Dentistry
January 19, 2018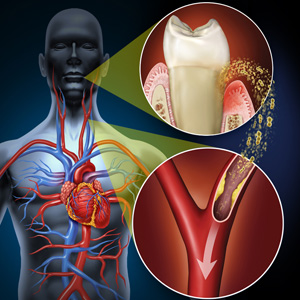 "No man is an island…." So wrote the poet John Donne four centuries ago. And while he meant the unity of humanity, the metaphor could equally apply to the interdependence of the various parts of the human body, including the mouth. According to recent scientific research, your mouth isn't an "island" either.
Much of this research has focused on periodontal (gum) disease, an infection most often caused by bacterial plaque that triggers inflammation in the gum tissues. Although an important part of the body's defenses, if the inflammation becomes chronic it can damage the gums and weaken their attachment to the teeth. Supporting bone may also deteriorate leading eventually to tooth loss.
Avoiding that outcome is good reason alone for treating and controlling gum disease.  But there's another reason—the possible effect the infection may have on the rest of the body, especially if you have one or more systemic health issues. It may be possible for bacteria to enter the bloodstream through the diseased gum tissues to affect other parts of the body or possibly make other inflammatory conditions worse.
One such condition is diabetes, a disease which affects nearly one person in ten. Normally the hormone insulin helps turn dietary sugars into energy for the body's cells. But with diabetes either the body doesn't produce enough insulin or the available insulin can't metabolize sugar effectively. The disease can cause or complicate many other serious health situations.
There appears to be some links between diabetes and gum disease, including that they both fuel chronic inflammation. This may explain why diabetics with uncontrolled gum disease also often have poor blood sugar levels. Conversely, diabetics often have an exaggerated inflammatory response to gum disease bacteria compared to someone without diabetes.
The good news, though, is that bringing systemic diseases like diabetes under control may have a positive effect on the treatment of gum disease. It may also mean that properly treating gum disease could also help you manage not only diabetes, but also other conditions like cardiovascular disease, osteoporosis, or rheumatoid arthritis. Taking care of your teeth and gums may not only bring greater health to your mouth, but to the rest of your body as well.
If you would like more information on treating dental diseases like gum disease, please contact us or schedule an appointment for a consultation. You can also learn more about this topic by reading the Dear Doctor magazine article "Good Oral Health Leads to Better Health Overall."
By Pappas Family Dentistry
January 04, 2018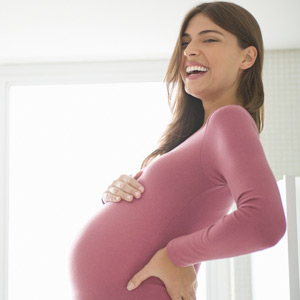 There are many health concerns when you're pregnant. And not just for you — what you eat, how you sleep or what medications or supplements you're taking all have an effect on your baby.
With so many concerns, it's easy to neglect caring for your teeth. But like other health issues, dental care affects both you and your baby and their future teeth and gum health. For both your sakes taking care of your mouth is a must.
For one thing, you're more susceptible during pregnancy to periodontal (gum) disease, an infection caused by bacterial plaque built up on teeth surfaces due to ineffective hygiene. It's believed hormonal changes increase the risk of gingivitis, the inflammation of infected gum tissues, common to expectant mothers.
Gum disease is a serious matter for anyone because of the increased risk of tooth loss. But there's another potential risk for expectant mothers: the bacteria that causes gum disease can pass through the placenta to the fetus. This can stimulate an inflammatory response from the mother that may result in a pre-term delivery and low birth weight.
There are some things you can do to protect your dental health and your baby's future health. Maintain a healthy diet with a wide range of whole foods: whole grains, fruits, vegetables, proteins and dairy products. Your doctor may also recommend iron and other supplements to reduce anemia. For the baby's dental development, be sure you're taking in sufficient calcium in your diet as well as other vitamins and nutrients. And although it's common to develop carbohydrate cravings, limit your consumption — especially sugar. Carbohydrates increase the levels of bacteria that cause tooth decay and gum disease.
Above all, practice consistent daily hygiene by brushing at least twice a day and flossing once. Be sure to visit us at least twice a year for cleanings and checkups. If you notice bleeding, swelling or redness of your gums (signs of gum disease) contact us as soon as possible.
A little extra attention to your teeth and gums while you're expecting can make a big difference in the health of your own teeth and gums, as well as build a strong foundation for your child's future oral health.
If you would like more information on dental health and care during pregnancy, please contact us or schedule an appointment for a consultation. You can also learn more about this topic by reading the Dear Doctor magazine article "Pregnancy and Oral Health."