Posts for tag: oral hygiene
By Pappas Family Dentistry
March 19, 2019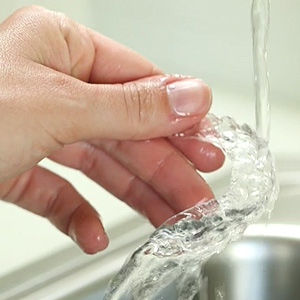 Oral appliances run the gamut from night guards and retainers to full or partial dentures. Millions of people depend on them for restoring or maintaining dental health.
Today's user-friendly appliances reflect the latest advances in technology. But that doesn't mean you can simply "place them and forget them." Their longevity depends on taking care of them.
The most important aspect of appliance care is keeping them clean. Although bacteria have no effect on an appliance's materials, they can accumulate on its surfaces and raise the risk your natural teeth and gums will be infected. To reduce that risk you should clean your appliance every day.
The best way is with a countertop ultrasonic cleaner. These units emit high frequency sound vibrations that loosen plaque (a thin film of bacteria and food particles) from even the appliance's tiniest crevices. Most units cost between $40 and $60, and pose less of a scratching risk to the appliance's surfaces than manual cleaning.
If you'd prefer to use a brush, there are some dos and don'ts to follow. You can use a cleaner especially designed for your appliance, but less expensive mild dish detergent or hand soap (with an antibacterial agent) will work too. Don't use toothpaste — most contain an abrasive ingredient for removing plaque from enamel that could leave microscopic scratches on your appliance. Use a soft-bristle toothbrush (but not the one you use for your natural teeth) or one designed for your appliance.
While boiling kills bacteria, the high heat can soften and warp the plastic material in an appliance. This could alter how the appliance fits in your mouth, making them loose and uncomfortable to wear. You should also avoid bleach: it can whiten acrylic or nylon designed to mimic the red color of real gum tissue.
Unless we've advised you otherwise, don't wear the appliance around the clock, a practice that raises the chances of bacterial accumulation. And be sure you also brush and floss your natural teeth every day.
Keeping both your mouth and your appliance clean helps ensure the best oral health possible — and that your appliance will last longer.
If you would like more information on caring for oral appliances, please contact us or schedule an appointment for a consultation.
By Pappas Family Dentistry
October 10, 2018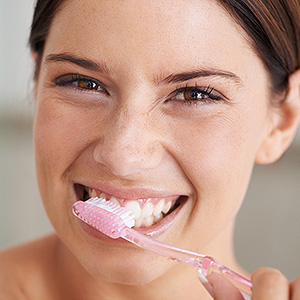 October is national Dental Hygiene month—and it's a great time to renew your commitment to good oral health. Everyone knows that to enjoy clean teeth and fresh breath, we need to brush and floss every day. But when it comes to the finer points of tooth brushing, there's a lot of misunderstanding. So here are five tips to help you get the most bang from your brush.
Go Soft
A soft brush is much better for your mouth than a medium or hard one. That's because stiffer bristles can actually damage soft gum tissue, and over-vigorous brushing can result in gum recession; this may lead to tooth sensitivity and an increased chance of decay. So always choose a soft-bristled tooth brush—and change your brush every three or four months, when its bristles begin to stiffen with use.
It Isn't (Just) the Brush…
It's the hand that holds it. Don't brush too forcefully, or too long. If you consistently brush too hard, try using just three fingers to grip your brush so you apply less force. And if you have questions or need a refresher, just ask us to demonstrate proper brushing and flossing techniques next time you're here.
Think Fluoride First
With many different flavors, whiteners and other ingredients in toothpastes, which one should you choose? It's up to you, as long as your toothpaste contains one vital ingredient—fluoride. This natural mineral has been proven to strengthen tooth enamel and fight cavities. Look for the seal of the American Dental Association (ADA) on the toothpaste tube: this certifies that it's been tested for safety and effectiveness.
2x2 = Terrific Teeth
According to the ADA, brushing gently for two full minutes, two times a day, is the best way to get rid of plaque and prevent cavities. That's why it should be an essential part of your oral hygiene routine. And while you're at it, don't forget to use dental floss (or another method) to clean the spaces in between your teeth. If you don't remove plaque from these areas, your cleaning isn't complete.
Preserve Your Enamel
There are some times when you should avoid brushing—like after you've consumed soda, or been sick to your stomach. That's because the acids in soda and stomach juices actually soften tooth enamel, and brushing can quickly wear it away. In these situations, rinse your mouth out with water and wait at least an hour before you brush.
Practicing good oral hygiene is the best thing you can do for your teeth at home. But don't forget to come in to the office for regular checkups and professional cleanings! Because no matter how thorough you are, you can't clean hardened deposits (calculus, or tartar) from your teeth at home: It takes special tools and the skilled hand of your hygienist or dentist to do that.
If you would like more information about tooth brushing and oral hygiene, please contact us or schedule an appointment for a consultation. You can learn more by reading the Dear Doctor magazine articles "Sizing Up Toothbrushes" and "10 Tips for Daily Oral Care at Home."
By Pappas Family Dentistry
January 04, 2018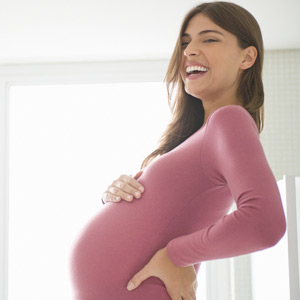 There are many health concerns when you're pregnant. And not just for you — what you eat, how you sleep or what medications or supplements you're taking all have an effect on your baby.
With so many concerns, it's easy to neglect caring for your teeth. But like other health issues, dental care affects both you and your baby and their future teeth and gum health. For both your sakes taking care of your mouth is a must.
For one thing, you're more susceptible during pregnancy to periodontal (gum) disease, an infection caused by bacterial plaque built up on teeth surfaces due to ineffective hygiene. It's believed hormonal changes increase the risk of gingivitis, the inflammation of infected gum tissues, common to expectant mothers.
Gum disease is a serious matter for anyone because of the increased risk of tooth loss. But there's another potential risk for expectant mothers: the bacteria that causes gum disease can pass through the placenta to the fetus. This can stimulate an inflammatory response from the mother that may result in a pre-term delivery and low birth weight.
There are some things you can do to protect your dental health and your baby's future health. Maintain a healthy diet with a wide range of whole foods: whole grains, fruits, vegetables, proteins and dairy products. Your doctor may also recommend iron and other supplements to reduce anemia. For the baby's dental development, be sure you're taking in sufficient calcium in your diet as well as other vitamins and nutrients. And although it's common to develop carbohydrate cravings, limit your consumption — especially sugar. Carbohydrates increase the levels of bacteria that cause tooth decay and gum disease.
Above all, practice consistent daily hygiene by brushing at least twice a day and flossing once. Be sure to visit us at least twice a year for cleanings and checkups. If you notice bleeding, swelling or redness of your gums (signs of gum disease) contact us as soon as possible.
A little extra attention to your teeth and gums while you're expecting can make a big difference in the health of your own teeth and gums, as well as build a strong foundation for your child's future oral health.
If you would like more information on dental health and care during pregnancy, please contact us or schedule an appointment for a consultation. You can also learn more about this topic by reading the Dear Doctor magazine article "Pregnancy and Oral Health."