Posts for: February, 2019
By Pappas Family Dentistry
February 17, 2019
If you've had a total joint replacement or similar procedure, you will want your surgeon to decide if you need to take an antibiotic before you undergo dental work. This is a precaution to prevent a serious infection known as bacteremia.
Bacteremia occurs when bacteria become too prevalent in the bloodstream and cause infection in other parts of the body, especially in joints and bone with prosthetic (replacement) substances. It's believed that during invasive dental procedures bacteria in the mouth can enter the bloodstream through incisions and other soft tissue disruptions.
Joint infections are a serious matter and can require extensive therapy to bring it under control. Out of this concern, the use of antibiotics as a prophylactic (preventive measure) against bacteremia once included a wide range of patients for a variety of conditions and procedures. But after an in-depth study in 2007, the American Dental Association concluded that the risks for many of these patient groups for infection triggered by a dental procedure was extremely low and didn't warrant the use of antibiotic premedication therapy.
As a result, recommendations for antibiotic therapy changed in 2009, eliminating many groups previously recommended for premedication. But because of the seriousness of joint infection, The American Academy of Orthopedic Surgeons still recommends the therapy for joint replacement patients about to undergo any invasive procedure, including dental work. It's especially needed for patients who also have some form of inflammatory arthritis, a weakened immune system, insulin-dependent diabetes, hemophilia, malnourishment or a previous infection in an artificial joint.
The guidelines for antibiotic premedication can be complex. It's best, then, to speak with both your orthopedic surgeon and us about whether you should undergo antibiotic therapy before you undergo a dental procedure. The ultimate goal is to reduce the risks of any disease and to keep both your mouth and your body safe from infection.
If you would like more information on the use of antibiotics in dental care, please contact us or schedule an appointment for a consultation. You can also learn more about this topic by reading the Dear Doctor magazine article "Premedication for Dental Treatment."
By Pappas Family Dentistry
February 07, 2019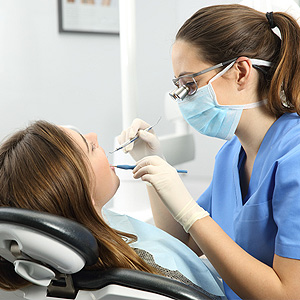 When things get unpleasant in your mouth, it's most often related to some underlying cause. In fact, the discomfort you're feeling is often a call to action to have it checked and treated.
The American Dental Association recently surveyed approximately 15,000 U.S. adults about their oral problems. If you have any of the top 3 problems found in this survey, it could be a "warning bell" sounding in your mouth right now.
Here, then, are the top 3 dental problems in America, what they mean and what you should do about them.
#3: Tooth Pain. About a third of respondents (more among those younger or from lower-income households) indicated pain as a problem. As a warning sign of something wrong, tooth pain could be telling you that you have a decayed tooth, a gum abscess or something similar. The best thing to do is get a checkup as soon as possible. It's unlikely that whatever is causing the pain will go away on its own and procrastination could make ultimate treatment more complex and difficult.
#2: Difficulty Biting. A slightly higher number of people named difficulty chewing and biting as their main oral problem. As with tooth pain, chewing difficulty causes could be many: cracked, loose or decayed teeth, ill-fitted dentures, or a jaw joint disorder (TMD). Again, if it hurts to chew or bite, see a dentist. Besides the underlying problem, chewing difficulties could also affect the quality of your nutrition.
#1: Dry Mouth. Chronic dry mouth garnered the highest response in the survey, especially among older adults. This is more serious than the occasional "cotton mouth" feeling we all experience—with chronic dry mouth the salivary glands aren't producing enough saliva to neutralize mouth acid or fight disease, thus increasing your risk for tooth decay or periodontal (gum) disease. It's most likely caused by medications or systemic conditions, so talk with your dentist or physician about boosting saliva flow.
If you would like more information on comprehensive dental care, please contact us or schedule an appointment for a consultation.